K. Dorfzaun S.A is a company established in 1939 and specializes in the production of toquilla straw hats known as the "Panama hat". It is a company recognized for its superior quality and social responsibility procuring ourselves to continue the legacy of the founder. We are proud of the following:
Working with the artisan community supporting them transcending their tradition.
Provide the fashion industry with the highest quality accessories.
Being an industry focalized in quality, sustainability, social and environmental responsibility in all our processes.
We guarantee safe commerce through the chain of product supply as we possess certifications in the system control and BASC security.
We invite you to learn about our corporate commitment through the next sections
WITH OUR ARTISANS
From the start of the company we have put emphasis in working responsibly with the artisan community. We work together to better their quality of life of thousands of artisan families. Through all these years we are proud to have a close relationship with our artisans whose work has been named cultural heritage of humanity in 2012.
The artisan who weave the hats by hand are a fundamental pillar in our chain of production here at K. Dorfzaun. Working hand in hand with the artisans let us know that they will have a good quality of life and work.
We have trained over 4000 artisans with different workshops to fulfill the standards of our clients with our work. We assist the artisans with different tools such as rulers and wooden lasts which are key tools to produce Panama Hats.
To our most skilled artisans it can take up to 6 months to elaborate a Panama Hat which can have up to 200,000 points. Each elaborated hat is a unique piece. The workshops we have hosted have been greatly accepted as it has given them an opportunity to better themselves obtaining a fair payment.
WITH OUR COLLABORATORS
We guarantee our staff Works free of modern slavery and in the best environment possible. They are treated with respect and therefore:
We know that working our ethic values is our best strategy. The company has a program of corruption prevention and bribery implanted in all our processes and collaborators.
We also have a program of substance abuse whose objective is support and help workers if they have an addiction.
We have the commitment to be confidential with the information and product specifications from our clients and our processes. We have a policy implemented in our company that prohibits the disclosure of confidential information.
The company works to implement all this sections with annual training where all collaborators participate to work on the precious points mentioned.
WITH POST-HAT WEAVING SUPPLIERS
An important part of K. Dorfzaun's supply chain are the suppliers of:
The processes after the weaving of the hats such as: "Azocadores", "Compositores", being these who iron, change, or cut straws, etc.
Suppliers of special materials to treat the hats.
Various accessories such as headbands, "tafiletes", lasts etc.
We want to ensure that we work with suppliers who follow our strict standards, share these same values, and will help us achieve our sustainability goals, a modern-day slavery-free supply chain, fair working conditions, and respectful treatment of all people.
We have a study and categorization of our suppliers according to the level of involvement in our processes, according to this, a follow-up and study of compliance with requirements is carried out by our suppliers.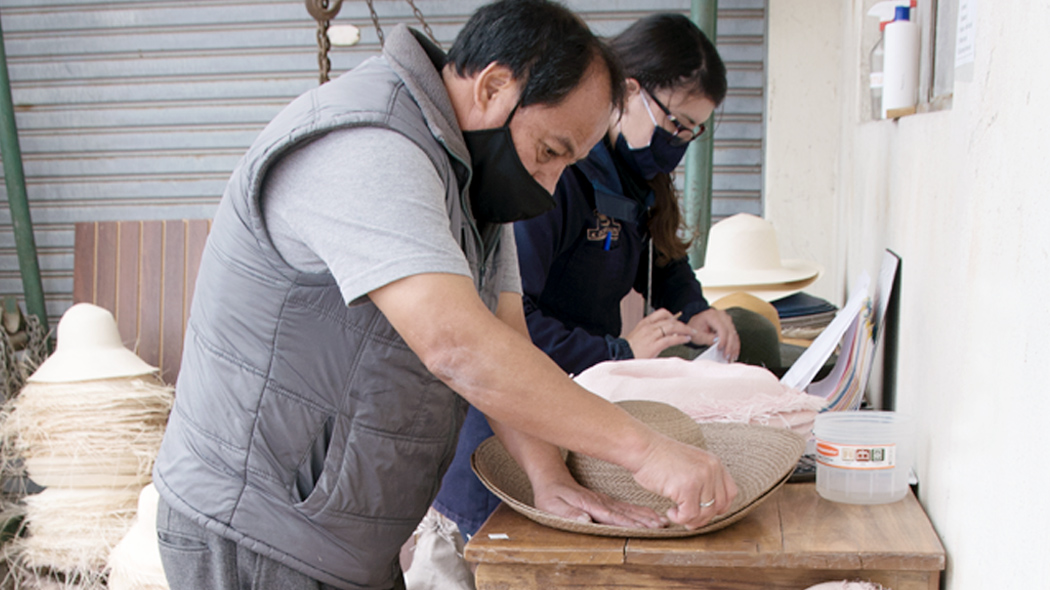 WITH THE ENVIRONMENT
We are based on an efficient methodology to be able to contribute to the sustainability of the resources and not cause a negative environmental impact, thus contributing to the good health of our surroundings and of the planet in which we live; it also favors our economy since this methodology is represented in savings. Applying the following principles the next sections are applied:
Reduce garbage and waste that is generated on a daily basis, as well as the consumption of water, electricity and materials.
Reuse and extend the maximum useful life of the materials we use in our processes.
Recycling, before discarding materials, we try to recycle the different waste generated such as: paper, mineral oils, chemical inputs, etc.
We strive to use renewable resources in a context of green processes with the environment in all our activities. We continually work to extend the functionality and longevity of our products. Following the life cycle of our hats, we know that it does not generate any environmental impact, being a biodegradable product, therefore the pollution is minimal.
We use regulated materials in all our processes, such as colorants, bleaches, etc… All of our materials meet global requirements, we continuously evaluate the processes of the suppliers of our supplies.
THE FULFILLMENT OF LEGAL REQUIREMENTS AND SAFE COMMERCE
We carefully comply with legal requirements that govern our activities, premises, and workers such as:
Municipal operating permits of our premises.
Contingency and operational plans approved by firefighters.
Requirements regarding Occupational Safety and Health, such as optimal and permanent surveillance of the wellbeing of our workers.
Environmental Legislation
We strictly apply legal trade guidelines throughout the production chain of our products. The company has been certified by BASC Control and Security for more than a decade, which analyzes and makes sure that our entire supply chain and all the people related to it don't have an affiliation to criminal associations such as drug trafficking.